Mobile has been the great disrupter creating completely new businesses and challenging the way most businesses offer customer service.
Marketers are experimenting with push notifications in all kinds of ways — to engage customers, to drive sales, to provide meaningful customer experiences, for starters. Strong, effective push strategies are a challenge, though.
Your tiny message must meaningfully drive your customers into action, and even bridge the gap between the online and the offline world.
Few brands do this better than our customer Air New Zealand. What they've done is use push notifications not just to inform or to update, but to deliver a magical experience in a stressful situation.
Here's the step-by-step rundown on how Air New Zealand has combined push notifications, location-based technology, its loyalty program, and caffeine for an awesome customer experience.
Location Targeting to Prompt the Order
Last time I walked into the Air New Zealand lounge, I signed in just like I always do. So the folks at Air New Zealand knew I was there. In another context, the same thing could be accomplished with beacon technology.
Minutes later, I got a mobile message from Air New Zealand: "Order coffee through the app and we'll send you a notification when it's ready."
Do I Stay or Do I Go?
I opened the app, where I was informed that my wait time would be less than five minutes. Great. Did I want my coffee to stay, in a real mug with a saucer, or in a to-go cup?
I'm thinking, to-go cup.
Death Before Decaf (Kinda)
Then I made my coffee selection through the app, which confirmed it with a diagram of my coffee. This may seem redundant, but it shows that the airline is committed to getting my order right, and to me being happy with my coffee? With this little drawing Air New Zealand is telling me exactly what I'm going to get.
I placed my order and received confirmation.
And Just Like That….
A few minutes later, this appeared on my phone while I was doing mandatory tweeting of my amazement: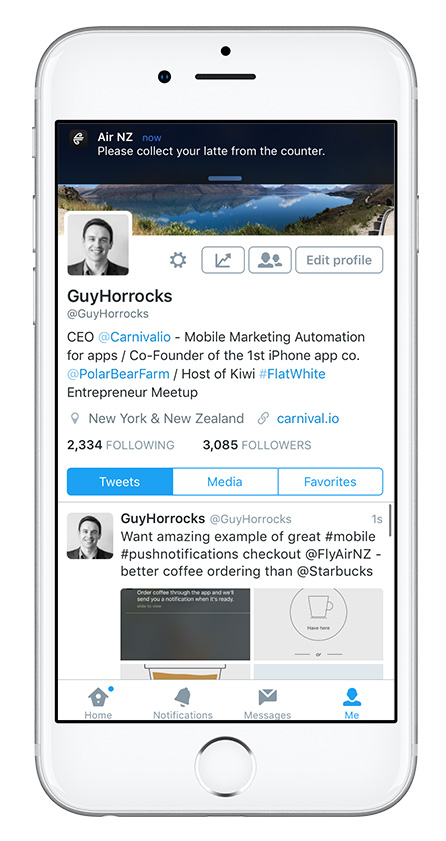 When I got to the counter, there was my latte, in a to-go cup, sitting on a label with my name on it and a description of exactly what was in my drink ("Latte/Single shot/Trim milk").
Why this Latte Showcases the Best of Mobile App Marketing
This simple example from Air New Zealand demonstrates that the best apps will remind customers of when to use them. With dozens of apps on their phones, you can't expect customers to constantly be checking in just to see what's new.
Without a push notification, few customers would even know that once they walked into the airline lounge they could order coffee from their phones.
It's also hard to see this series being irritating or unwelcome–it only goes out to people in the lounge, and if I don't want coffee, I probably still appreciate the offer.
It reminds me of countless examples in which a "Happy Birthday" message to a customer, with a discount, prompts no more engagement than one that simply says "Happy Birthday," with no discount. Customers like it, and respond,  if you show you care about them.
And on a stressful travel day, coffee is caring.